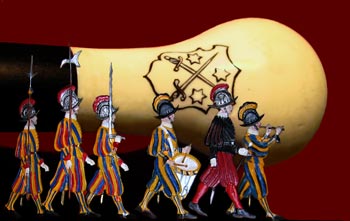 Swiss Guards
________________

The old tin figures in the picture above show Swiss Guards. From the left:
A corporal armed with a short pike, the symbol of his rank.

A guardman with the Hellebarde. This arm, a combination of axe, fang and pike, was especially effective in street fighting with mounted enemies.

A private with the a 5 feed sword, the so said Bidenhaender (Two handed sword). In combat against foodmen the ultimate weapon.

A drummer and at the right end a piper. In old times the sound of Swiss drums and pipes spread fair to their enemies.

A platoon leader. He is only armed with a sword. In the left hand he holds a commander's mace. Behind the tin figures, you see the ivory head of such a commander's mace, with the

Werlen coat of arms

.
| | | |
| --- | --- | --- |
| | | |
| Full metall jacket | | Werlen coat of arms |
Since 1506 the Vatican's Swiss Guard protect the Holy Father and ensure security
at the Apostolic Palace.
Soon on this screen: A short history of the Swissguard and their origin.
_________________

Next page . Back to family history 1/1 . Homepage . © Copyright 2002-2004 werlen.ch